1981 | NANA BRENU
Nana K. Brenu's quest for equilibrium between two highly contrasting genres of style lead to the conception of his 1981. The first style being his Ghanaian heritage characterised by vibrant colours and bold prints in contrast to his modern minimalistic design sensibilities that is highly influenced by modern art, design and architecture including the main principles of minimalism.1981 became the creative medium for his exploration of this dialogue.

The idea that a modern design ethos and a rich and vibrant Ghanaian heritage can harmoniously coexist highlights the notion of contrast reflected in each seasonal collection. Though attracted to the muted natural tones usually associated modern design, the touch of bold colours in contrast, reflects his vibrant Ghanaian heritage. 1981 is about always striving to create some "new", a creative vehicle striving to achieve a balance between conceptual-ism and a practicality.
AAKS | AKOSUA AFRIYIE-KUMI
AAKS was founded by Akosua Afriyie-Kumi with the goal of introducing the world to her favourite weaving techniques done by the women of Ghana while also creating and igniting sustainable jobs within Africa.

The essence of AAKS design philosophy is a complex combination of thoughts, design element which come from a critical attention to craftsmanship, authenticity and ethical values in their production ; while having a strong sense of identity and quality. Each collection silhouette is unique and tells a different story through detail, colour and shape.

Akosua is connected to every stage of the design and production process to oversee and ensure that the end result is imbued with the spirit and soul worthy of the AAKS stamp. Handcrafted in Bolgatanga, AAKS creates bags in styles that maintain the spirit and durability of their ancestral counterparts characterised by bright exuberant colours.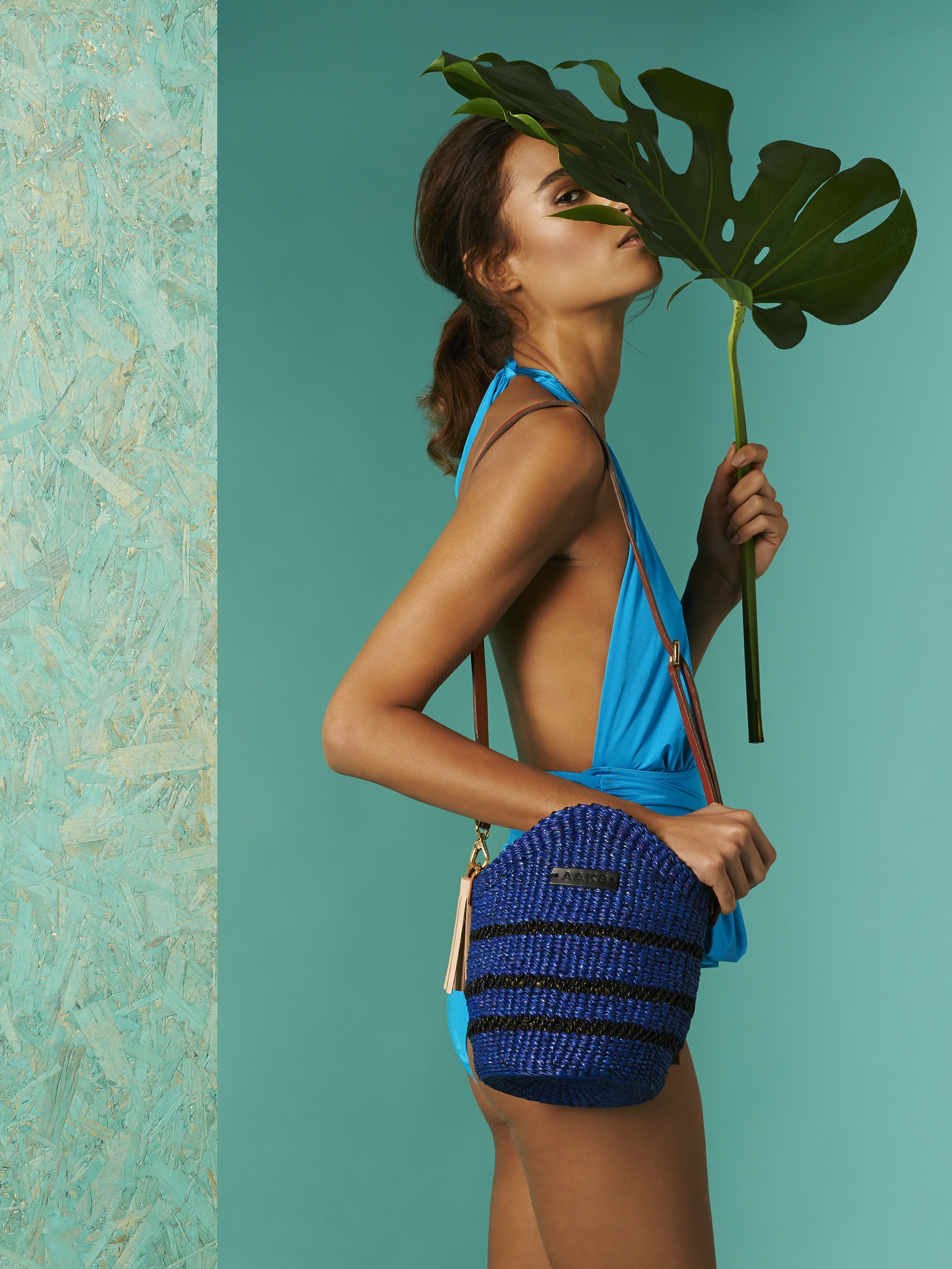 BOHTEN | NANA OSEI BOATENG
Nana Boateng Osei, Founder of Bôhten, had the initiative to use reclaimed material to manufacture an eco-luxury eyewear line. He draws some inspiration from his Ghanaian roots and from his love of nature, but his main source of inspiration comes from his late grandfather Andrew Hanson Osei, who was Ghana's first land surveyor in the 1960s.
As a company, Bôhten pay homage to a love of fashion without the loss of social responsibility, having successfully developed a compost management initiative that reuses environmental reclaimed material (barley, wheat, straw, stone) to design their contemporary eyeglasses.
Bôhten's mission is to establish the first sustainable eyewear manufacturing supply chain on the African Continent. Through this they aspire to change the face of Africa with a vision that advocates education, sustainable employment, social responsibility and environmental awareness in fashion on a global scale.
CHIDO DIMAIRO | Chido Dimairo
Chido Dimairo is a young fashion designer who was born in Zimbabwe and later moved to grow up in New Zealand. Her experiences growing up and encountering a variety of cultures has resulted in her unique design aesthetic. During her time in Zimbabwe, she was surrounded by a variety of arts and traditional crafts and it was here where she realised her love for art, more specifically; textiles. At the age of 10 she moved to New Zealand and it is here that she discovered her love for fashion design.
During her secondary and tertiary education she was able to develop her design and construction skills. The visual persona of Chido's designs marry bold textiles and simple silhouettes, playing on the contrasts and balance between quiet and loud visual elements. As a designer she draws inspiration from her cross cultural upbringing, producing garments that are bold, detailed and colourful and her works shows that harmonious identities can develop from cross- cultural experiences.
LAURENCE AIRLINE | LAURENCE CHAUVIN-BUTHAUD
Laurence Airline is a menswear label and conscious project based between Abidjan and Paris. Laurence Airline brings together a path between cultures drawing contemporary timeless basic silhouettes with deep African roots.
The entire line is made in accordance with conscious and sustainable manufacturing practices in Laurence Airline's workshop in Ivory Coast, where local people are trained to produce high quality garments following international standard.
Valuing bold aesthetics and sustainable development, the label merges creativity coming from Africa with the sophisticated standards of modern societal way of life. In that frame, worldwide sold Laurence Airline's collections help build Africa's modern reality into the international fashion scene.
MONAA | Nana & Afua Dabanka
German-born Ghanaian sisters, Nana and Afua Dabanka, created the luxury footwear label, MONAA, in homage to their regal Ashanti heritage. Made in Ghana by expert artisans, MONAA sandals are constructed from the finest, globally sourced leathers, and refined with African-inspired embellishments. Exquisitely handcrafted, MONAA reflects the designers' transcontinental sensibility.

As young girls, Nana and Afua were completely enamoured with their father's handmade leather Ohenema slippers as well as their mother's intricately woven Kente silk ensembles. The brand combines craftsmanship steeped in tradition but designed with a global perspective. Hence, the sisters present a luxurious new footwear option and a personal labor of love: Made in Ghana, for the customer who makes herself at home anywhere in the world she may be.
SOKONA | Zainab Sokona-Whyte
Designed and founded by Zainab Sokona-Whyte, Sokona is an international African ready to wear and custom made label for women that includes clothing and jewellery.

Zainab was born and raised in Mali until she was six years old, when her family moved to the fashion capital of Belgium, Antwerp. Since then Zainab has lived in London, Singapore, Sydney and now Auckland. Sokona designs reflect the life and passions of Zainab, combining the vibrant visuals and patterns of African imagery with cuts suited to a contemporary environment using fabrics that are sourced from around the world.

Sokona has statement pieces that exude elegance and elaboration in an effortless manner. The essence of Sokona designs is best described as an elegant joy.
MO SAÏQUE | Afua Dabanka
MO SAÏQUE was created by Afua Dabanka - a banker turned footwear designer by way of London College of Fashion. Known by friends and family as "Mo," Dabanka created the luxury shoe brand to reflect her own authentically international upbringing and perspective. Born in Germany to Ghanaian parents and now based in London, Dabanka is a true Global Native with a refined aesthetic that's been shaped by contemporary style palettes from Europe and Africa.

Her Ghanaian heritage is evident in the rich and bold selection of colours and prints, combined with a strong influence of Germany's clean-cut silhouettes. Though new to the market, MO SAÏQUE has been seen on the red carpets at the Cannes Film Festival, F1 Amber Lounge Fashion Show in Monaco, the V&A Afropolitan Fashion Show and the Vertu Vogue Festival in London.